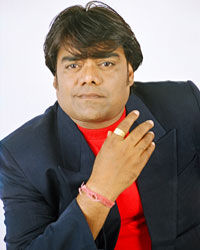 Sunny Agarwal, the leading Rajasthani film producer and actor, belongs to Sikar district of Rajasthan. His first love is Rajasthani films. He has produced and acted in the social Rajasthani film Bapuji Ne Chaye Beenani, Jai Jeen Mata, Mahara Shyam Dhani Datar, Kripa Karo Sundha Mata. He also directed a mythological Rajasthan film, Jai Jeen Mata, directed by Hussain Baloch, based on a brotherís love for his sister and communal amity. Sunny Agarwal played the role of brother. The film proved quite popular among the followers of Jeen Mata, resident in Sikar and other regions of Shekhawati in Rajasthan.
Though Sunny Agarwal may have settled in Mumbai for long and has acted in Gujarati films, his heart is always in Rajasthan. He submitted a memorandum ventilating the woes of Rajasthani film producers to Vasundhara Raje, the Chief Minister of Rajasthan.
It bemoaned the apathetic attitude of the State Government, along with total refusal of theatre owners to screen a Rajasthani film, while regional film movement in Tamil, Telugu, Kannada and Malayalam is flourishing under state patronage.
On the contrary, production of Rajasthani films is dwindling fast. Number of Rajasthani films produced during the past four years has been hardly half-a-dozen, as compared more than half-a-dozen films produced every year during the late í80s. The urgent need is for the Rajasthan Government to come to the rescue of the regional film industry by offering financial aid to boost production of Rajasthani films, Sunny Agarwal stressed.
He also received many Awards for best performance in Rajasthani Films - Marudhara Gaurav, Karamveer Puraskar, Rajasthani Ratna, Dharam Ratna & many more....